School News & Announcements
Subscribe to posts
Ottawa Catholic School Board (OCSB) schools will be closed on Wednesday, February 13, 2019
The Ottawa Catholic School Board (OCSB) is closing all schools and administration offices including the Catholic Education Centre on Wednesday, February 13. There will be no before or after school care/activities, after hours classes, or afterschool/evening activities including community use of schools. Child care run by the Ottawa Catholic School Board and the Ottawa Catholic Child Care Corporation will not operate.
This decision was made in consultation with the City's Emergency Preparedness Office, and our education partners, including the Ottawa School Transportation Authority (OSTA). We expect schools to re-open Thursday, February 14. If this changes for any reason, we will notify families, staff, and media.

On behalf of Notre Dame High School and its community please stay safe. 
Missed Notre Dame's Grade 6 Parent Information Night ? Not a problem check out the
brief slideshow presentation
which highlights some of the reason ND is the right place for your child!
If you have any questions please feel free to give us a call at 613-722-6565
Please note that tonight's Parent Council meeting has been cancelled. 
The next meeting will be on Tuesday, March 5 
Thank you for your support, if you have any questions please feel free to give us a call at 613-722-6565

Welcome to Semester 2 for High School students!!!  We are halfway there!  ** Please note that you have until February 6th to drop/change classes in Student Services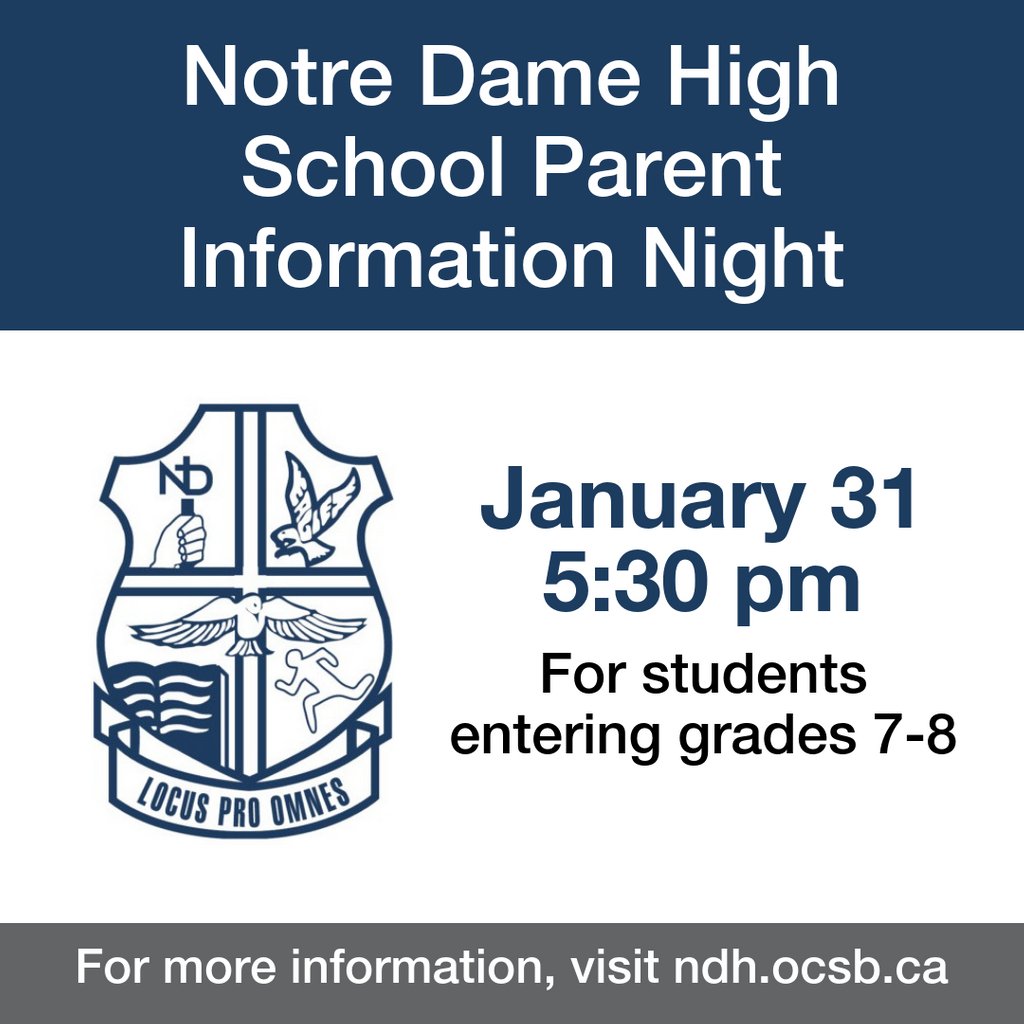 Have a child going into grade 7 or 8 this September?
Thinking about sending them to Notre Dame High School?
Join us
Thursday, January 31
for our Parent Information Night. 
Learn about academic programs, extra-curricular activities, our ND After 3 Program and so much more!!
Penne Pasta Dinner will be served at 5:30 p.m. followed by a presentation at 6:15 p.m..
If you have any questions please feel free to call us!
We look forward to seeing you there.
Because of the two snow days that have taken place during our high school exam schedule, we posted a new exam schedule yesterday that required some students to write two exams in the same day.  We heard from parents, students and educators who asked us to reconsider this new schedule.  We thank you for sharing your concerns with us and have looked at other options for exam writing.  

A

ll 

exams

 have 

now 

been rescheduled to January 25th, 28th, 29th and 30th.  

That is, a

ll 

exams

 have been bumped by two days.
Exams that were originally scheduled for January 23rd will be written on January 25th.
Exams
 that were scheduled for January 24th will be written on January 28th.
Exams
 that were scheduled for January 25th will be written on January 29th.
Exams
 that were scheduled for January 2
8
th will be written on January 30th
 (a scheduled PD Day)
.
January 30th remains a PD 
Day for grade 7 and 8 students
.  It is now an exam day for our grade 9 to 12 students.
The 

exam

 schedules at
all
schools for
all
students will be affected (not just for school bus riders).  
OSTA will provide regular bus service on January 30th.
If you have any questions, please call the main office at your child's school. 
Peace Lubangi represented ND for this years Art Days where she spent 3 days creating a multi-media artwork that will hang at the board office for a year.  This years theme focused on the differences between how society sees us compared to how we defines ourselves. Many pieces involved the influences of social media. Peace created 3 separate artworks and combined them in Adobe Photoshop. The viewer sees the "hidden" layer by holding their phone up to the artwork to reveal each artists true identity, through the" HP Reveal" app. Peace represented ND as a modern artist with such a thought-provoking approach to her work. Congratulations Peace!
GRAD PHOTOS HAVE BEEN RESCHEDULED FOR MONDAY, JANUARY 21.
GRADS YOU ARE KEEPING YOUR SAME APPOINTMENT TIME. 
Sorry for any inconvenience this may cause, if you have any questions please come to the office. 


ND Grad Long Sleeve Shirts are now on sale!! 
Order Forms
can be picked up in the office, orders are due Friday, January 18.
Please bring your money and forms to room 132 or the office.